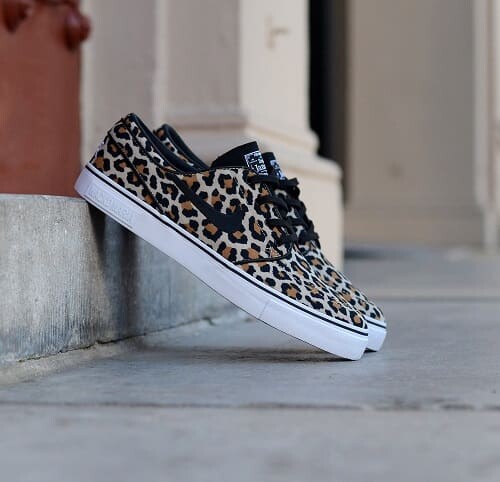 WACKO MARIA X NIKE Sneakers
Nike SB has teamed up with Japanese streetwear label WACKO MARIA to reimagine two of the footwear brand's most popular sneakers: the Blazer and the Janoski. The collaboration retrofits legendary Nike kicks with WACKO MARIA's wild aesthetics. Nike SNKRS sat down with WACKO MARIA founder Atsuhiko Mori to discuss the concepts behind the designs:
Earlier this month, American workwear staple Carhartt WIP dropped a similarly bold capsule collection with the Japanese brand—that featured all-over leopard print redesigns of classic silhouettes. You can shop that collaboration here.
The Blazer was born as a pioneering basketball shoe—but its silhouette was later adopted by skateboarders due to its high-performance traction and support. This low-top iteration of the classic Blazer (the SB Blazer Low) features a sleek design with a black suede body, brown gun sole, snakeskin Swoosh, and high-contrast co-branding on the back. The heels read NIKE above kanji embroidered in white stitching. The kanji read 天国 (Paradise) on one shoe and 東京 (Tokyo) on the other. PARADISE TOKYO is the name of WACKO MARIA's flagship store in Meguro-ku, Tokyo. The sock liner features the Nike SB logo and WACKO MARIA's iconic GUILTY PARTIES branding.