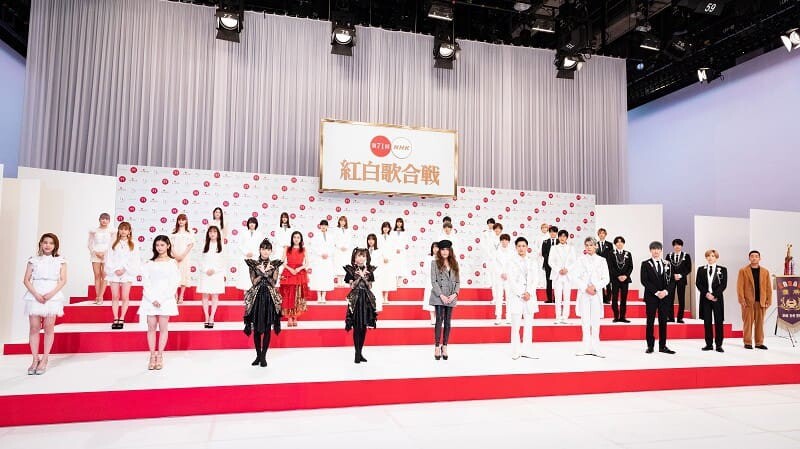 Kohaku New Year's with no audience
A mixture of new and seasoned artists are among the 42 acts set to perform at the 71st "Kohaku Uta Gassen" (red and white song battle) on New Year's Eve, public broadcaster NHK announced on Nov. 16.
In all 10 new entrants have been announced for the annual song contest, in which the female artists of the red team and male performers of the white team compete to be named the better side. Six are on the red team, including groups NiziU and Sakurazaka46, and singer JUJU. The white team's three new acts are "Kosui" singer Eito, and Johnny & Associates groups Snow Man and SixTONES.
Arashi, who announced their intention to go on hiatus at the end of the year, will appear for the 12th time. Singer LiSA, who sings the theme song for the hit anime series "Demon Slayer: Kimetsu no Yaiba," will make her second appearance, her first being last year.
Hip-hop group GReeeeN, who perform masked and have been behind the theme song to this year's NHK morning drama "Yell," will sing for the first time at the contest as a special, separate act.
This year's event will be held without an audience as part of attempts to avoid infections from the coronavirus. It will be the first time for the show's history to go out without live spectators since the very first Kohaku Uta Gassen was broadcast on radio in 1951.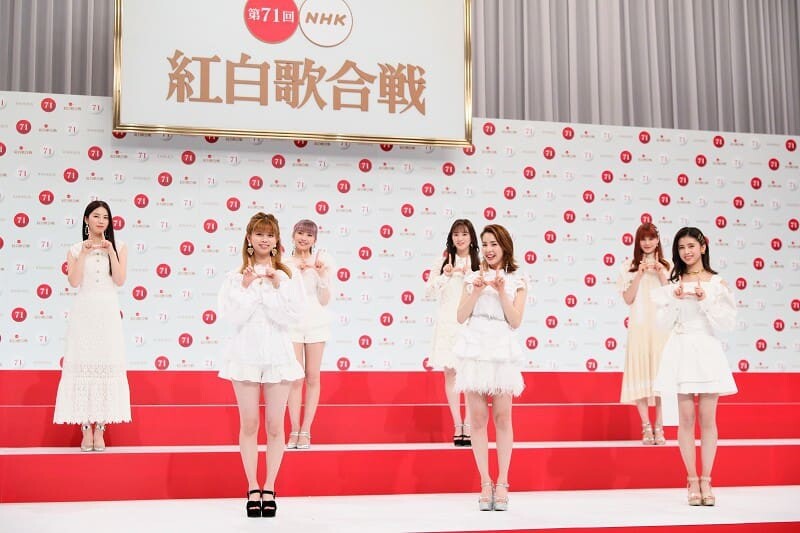 The 71st edition of the contest will start at 7:30 p.m. on Dec. 31, broadcast on NHK G and other channels. Both teams will be headed by actors filling the roles for the first time, with the red team to be led by Fumi Nikaido, 26, and the white team by Yo Oizumi, 47. General presenting duties will once again go to comedian Teruyoshi Uchimura, his fourth consecutive year in the role, and NHK's own presenter Maho Kuwako in her third appearance.
Below is the full lineup for the 2020 Kohaku Uta Gassen singing contest (the figures in parenthesis represent the number of the individual/group's appearances in the annual contest):
Red team
Aimyon (2)
Sayuri Ishikawa (43)
Fuyumi Sakamoto (32)
Sakurazaka46 (first appearance)
JUJU (first appearance)
Superfly (5)
Yoshimi Tendo (25)
Tokyo Incidents (first appearance)
NiziU (first appearance)
Nogizaka46 (6)
Perfume (13)
Hinatazaka46 (2)
Foorin (2)
BABYMETAL (first appearance)
Seiko Matsuda (24)
MISIA (5)
Kaori Mizumori (18)
Milet (first appearance)
LiSA (2)
Little Glee Monster (4)
White team
Arashi (12)
Hiroshi Itsuki (50)
Eito (first appearance)
Official HIGE DANdism (2)
Kanjani Eight (9)
Kis-My-Ft2 (2)
King & Prince (3)
Hiromi Go (33)
GENERATIONS (2)
Junretsu (3)
Masayuki Suzuki (3)
SixTONES (first appearance)
Snow Man (first appearance)
Kiyoshi Hikawa (21)
Masaharu Fukuyama (13)
Hey! Say! JUMP (4)
Gen Hoshino (6)
Mr. Children (2)
Hiroshi Miyama (6)
Keisuke Yamauchi (6)
Yuzu (11)
Special performances
GReeeeN (first appearance)